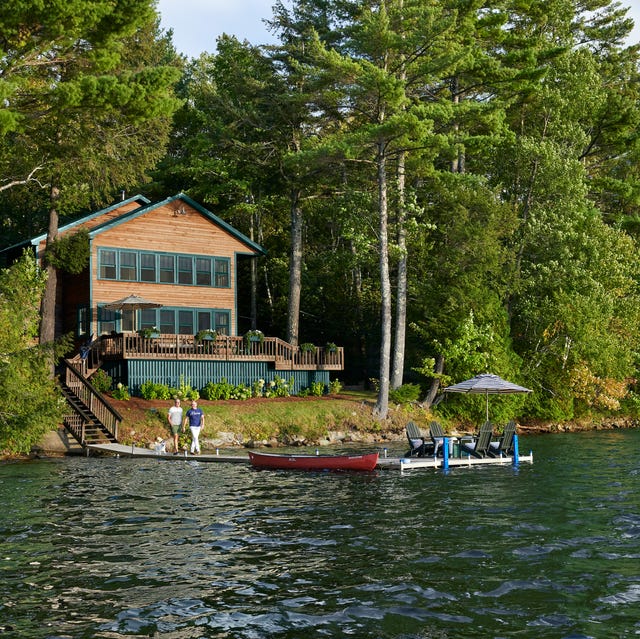 David Land
The winding dirt road that leads to "Loon Camp" is home to only two houses. But come summertime, the path's population grows by leaps and bounds with the visiting friends and family of John Wentworth and Jamie Gluck. Named for its address on secluded Loon Road, the Southern California-based couple's Madison, Maine, cottage sits just 15 feet from pine tree-lined Lake Wesserunsett. "Since I was a kid, I would visit this lake with a whole host of people I call the 'fake cousins,' " says native Mainer John, whose grandparents owned a house on the lake.
Every summer, John's "relatives by choice," who also had cottages there, would hop from camp to camp—a tradition that continues to this day. John and Jamie would typically stay at a local motel for the annual "family" reunions, but about seven years ago, they spotted a "For Sale by Owner" sign that would change their summers forever. "It wasn't the perfect cottage, but it was the perfect location," says Jamie.
Built in the 1940s, the 1,800-square-foot house had been renovated in the 1970s, resulting in interiors that—50 years later—left something to be desired. Inspired by the camps of John's relatives, the couple worked with contractor Steven Dionne and architect Rick Eskelund to bring back the home's yesteryear feel. Out went the drywall and in came tongue-and-groove pine paneling. Also gone: the popcorn ceilings, replaced with exposed beams, and the '70s wall- to-wall carpeting, switched out for pine floors with flat-head iron nails. The couple added even more nostalgic charm with reclaimed hardware, antique glass doorknobs, push-button light switches, and a mix of heirloom and newly acquired vintage decor.
But there's one throwback feature at Loon Camp that's pretty tough to beat. "My favorite thing is jumping in that lake almost every day, just like I did as a kid," says John. Leave it to a renovator to know that sometimes diving all in is better than a tentative dip of the toes.
Advertisement – Continue Reading Below
Old Cabin Palette
John Wentworth (standing) and Jamie Gluck left their 1940s home's original cedar siding as is and painted the new energy-efficient, dual-paned Andersen windows in what John calls "camp green"— a forest green color in keeping with the area's lakeside cottages. They accented with a cheery yellow door.

Get the Look:
Front Door Paint Color: Summerdale Gold by Benjamin Moore
Ships, Ahoy
Shades of the coastal blue hue ebb and flow throughout Jamie and John's home, as seen on the collection of vintage ship paintings, sofa, Danish armchair cushions, and the chippy Early American laundry stand that serves as the living room's coffee table. They found the mint-condition 1970s pole lamp dusty and disassembled on the floor of a local antiques store for a steal of a price of $50. "Our furnishings run the gamut from high-end to yard sale," says John.

Get the Look:
Sofa: London by Mitchell Gold + Bob Williams
Rug: for similar, Vintage from Evangeline Linens
Nautical Touches
The framed collection of sailing knots was a gift.
Cozy Quarters
A built-in log nook keeps firewood on hand for the cozy wood-burning stove. The 1940s Wentworth sign above originally hung in John's grandparents' home two doors down.
Meet the dog! 14-year-old Jack Russell-Chihuahua-corgi mix Hazel loves a trip in the canoe, but hates getting wet.

Get the Look:
Wall Paint Color: Snowbound by Sherwin-Williams
Stove: Oslo by Jotul
Retro Details
Consummate host and resident chef Jamie whips up local delicacies such as Maine haddock-and-potato fish cakes in the couple's small but mighty kitchen. The showstopping 1950s cast-iron drainboard sink was found by their contractor frozen in the ground under his mom's barn. (Really!) The custom hinged cabinetry is made of tongue-and-groove pine and the countertops are zinc, both choices inspired by other camp houses in the area. For additional retro flair, the homeowners opted for a cream-colored SMEG refrigerator.

Get the Look:
Rug: for similar, Vintage from Evangeline Linens
Vintage Touches
John and Jamie chose classic pushbutton light switches for added vintage charm, but there was just one problem: "We ganged so many switches together we couldn't remember what controlled what!" Jamie says. The solution: handwritten hang tags for handy IDs. "I thought they'd be temporary, but seven years later they still hang there."
Eclectic Antiques
"We wanted our home to feel like it had survived many generations of one family, so the furnishings reflect what they may have bought as it changed hands through the '40s, '50s, '60s, '70s, and today," says Jamie. That mix-and-match mindset is on full display in the breakfast nook, where assorted antique chairs surround a turn-of-the-century table and a tomato red deacon's bench from the 1870s provides plenty of extra seating. A green drop-leaf table serves as the "bar."
THERE'S A GOOD STORY BEHIND THOSE…
Decorative Panels
These farm-scene panels were studies for a theater backdrop at the Long Beach, California, opera house, which was destroyed in an earthquake in the 1930s. Before making the move to Maine, they hung in a restaurant the couple owned in California's Santa Barbara wine country. "We sold the restaurant and took the paintings," Jamie says.

Get the Look:
Throw: from Evangeline Linens
Repurposed Treasures
Around the corner from the breakfast nook, an assembled "butler's pantry" houses ironstone dishes in a hanging plate rack, linens in the vintage icebox, and their collection of antique French and English silverware in an old tool tote which makes it easy to transition indoors to out. Also in this space are more vintage paintings, including a small landscape by New England artist Daphne Confar.
Makeshift Game Room
Lazy days are spent playing board games at the metamorphic antique game table (it converts to a chair!). John and Jamie found the vintage cane-seat chairs at a neighbor's yard sale.
Dockside Dining
The outdoor dining space is referred to as "the waving deck," because it's local custom to wave at all the boats as they go by. Whether it's morning coffee, a dinner party, or happy-hour Negronis and Aperol spritzes, the antique picnic table made from old floorboards (found at nearby Hathaway Mill Antiques) is the perfect gathering place.
HOW CLEVER IS THAT?
Upcycled Upholstery
John and Jamie used vintage 1950s cotton tablecloths to re-strap the antique folding chairs. "We like the frayed edges and don't worry about the fabric weathering," says John.

Get the Look:
Bowls, Plates, and Mugs: Campfire Pottery from Ember Maine
Salvage with Soul
In the guest bedroom, an old iron bed holds a colorful quilt made from quilt panels that belonged to Jamie's grandmother. The vintage poster hanging by the windows is from Lakewood Theater, the longest-running summer theater in the country, which sits just across the lake.
A Mix of Textures
A vintage pedestal sink is the centerpiece of the guest bath, which also features a pair of vintage ship wheel sconces lined with fisherman's rope.
Room With a View
To take advantage of the lakeside views, the homeowners added windows across the length of the primary bedroom. "Now it's like a cruise ship up there," John says. The pine blanket chest has been in John's family for more than 100 years, and the bedding is from Maine mainstay L.L. Bean.
Sentimental Wall Art
In the mudroom, four green shutters with pine tree cutouts that once hung on John's grandparents' camp add a personal touch. "When the current occupants renovated their place, they removed the shutters and gave them to my sister and me," he says.

Get the Look:
Crock: vintage from Hilltop Antiques, Skowhagen, Maine
An Outdoor Shower
The outdoor shower provides a convenient—and pine-scented—spot to clean off after a day frolicking in the lake.
See More Coastal Cottages!
Love the look of John & Jamie's lake cottage? Find even more coastal decorating inspiration in these favorite Country Living waterside house tours:
*Step inside this tiny Maine cottage that is the epitome of modern farmhouse meets New England Charm.
*See how one couple turned an old fishing shack Into a stunning summer retreat on Martha's Vineyard
*Visit author Mary Kay Andrews' colorful 1932 Georgia beach cottage that is filled with salty secondhand finds.
Advertisement – Continue Reading Below