Are you looking for a simple and inexpensive way to transform your kitchen or bathroom without the hassle of a full refit? If so, then painting over tiles is the quick and budget-friendly way to completely restyle a space for incredible results.
There are a few things you need to consider when painting tiles to redesign your room. Repainted tiles will last longest in a space that doesn't get too wet, too often; think kitchen countertops or bathroom walls not splashbacks or shower surrounds. Decide on the finish you would like – gloss or matt; gloss is easier to clean but matt finishes are more contemporary. Lastly, choose your design; you could go for a block of bright colour to reinvigorate the space or let your creative side loose and use a stencil to create the appearance of new patterned tiles for a fraction of the price.
4 Steps to Painting Tiles: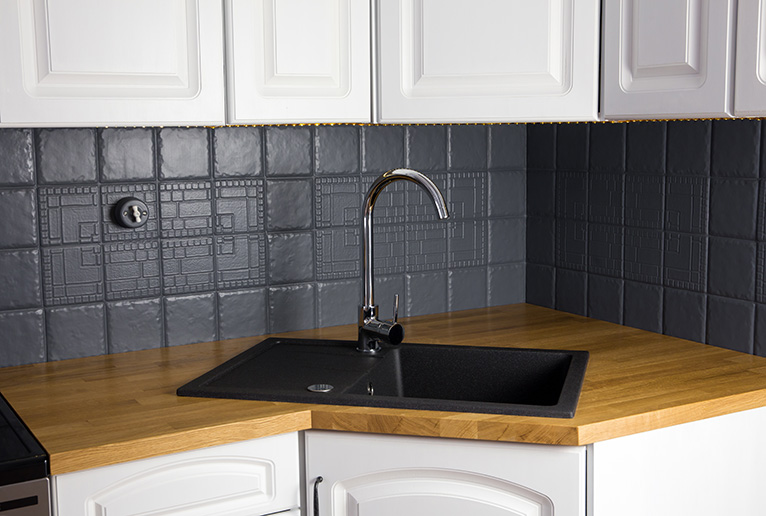 1 – Prepare the space; clear the area, lay dust sheets and stick masking tape along the tiled edge to protect walls. If you have bits of grout missing then use epoxy resin to fill these in before you paint
2 – Clean the tiles and grout with soap and water, making sure to let it dry completely
3 –  Sand down the surface of the tiles to take the gloss off, wipe clean afterwards
4 – Paint the tiles and grout, using a small roller to thinly and evenly apply tile paint. You will need to let it dry fully before adding another coat. Two or three coats should be enough. You could also add a clear lacquer as a final coat to prolong tile life.
If you want a bold statement use a contrasting colour for the grouting. It'll take a steady hand but painting over the grout lines gives a definite wow factor.  
If you want an experienced hand for detailed and neat repainting you can find vetted, professional painters and tilers by posting your job on Rated People.
FIND A PAINTER